Georgian Pedestal Desk (Item #1840-60)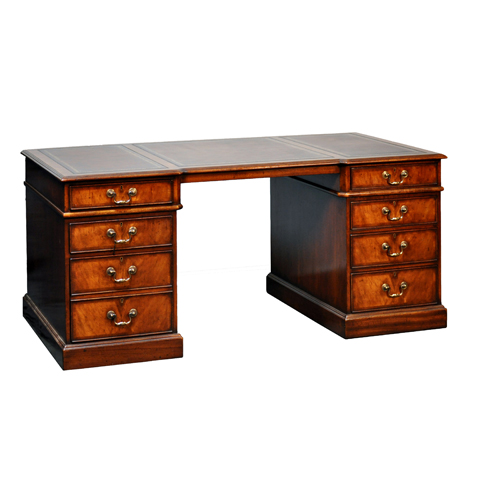 Item 1840-60
Available in 72 inch width- Item #1840-72
Available with center drawer- Item #1842
Matching credenza #4920
Georgian Pedestal Desk
(Item #1840-60)
This is a beautifully straight forward desk with a solid classic look. For those who need more knee room, we make this desk without the center drawer. We include a file drawer and regular working drawers along with swirl mahogany and our hand applied antique French polish finish. Comes standard in mahogany with a wood top and can be customized to your needs.
Shown In
Mahogany
Dimensions (inches)
60w x 36d x 30h
Custom Woods
Mahogany with wood top
Custom Options
Gold tooled leather top. Custom sizes and configurations available, including configuration to house computer equipment (custom upcharge). Choice of leather colors or wood top.
List Price (USD)
$15,375
Inventory Status
Lead Time to be advised, please inquire