Our English Workshops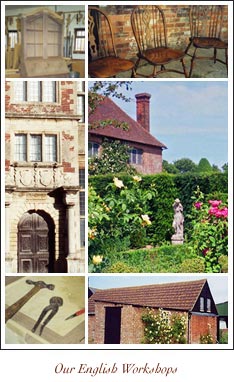 The breadth of our range can be seen in the history of furniture making itself. We derive our inspiration from various European artistic periods, starting with the Italian Renaissance, where it all began for Europe, then Georgian times which saw the inventiveness of Chippendale and Sheraton, and on through the Regency period.
Our English workshops are the foundation of our business. Our skilled cabinetmakers, whose experience has given them a deep respect for antique furniture and the knowledge of furniture making, are dedicated to completing each piece to the last detail. Attention to proportion and scale give our reproductions the look and feel of the original.
Truly a "cottage industry", our workshops are located in England's villages. Much hand work is combined with modern machinery and each craftsman has learned his skill through long hours of apprenticeship and individual practice. The efforts of each cabinetmaker, leatherer and carver come together along with those of the turner, joiner and polisher, then our Benchmade reproductions are packed and shipped to us.