Our Furniture Construction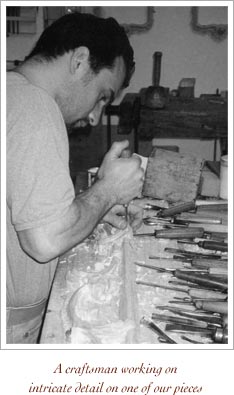 Three hundred years ago, craftspeople in England specialized in different aspects of furniture making: the Cabinetmaker would construct the majority of the piece; the French Polisher would apply the finish that gave the piece its color and depth; the Leatherer would lay the leather hides and emboss the gold tooling and the Carver would carve the cabriole leg. Today, HL Holland Designs continues this tradition of specialized craftsmanship. Our workshops each specialize in different aspects of furniture making: We have Carvers, Polishers, and Carpenters, each using their unique talents, working together to produce the final piece that we bring to you.
When fashioning an antique reproduction, we strive to make our furniture look as much like an antique piece as possible. If creating a contemporary piece, we make sure that we include the level of quality craftsmanship that we employ on our antique reproductions. Many of our cabinetmakers and polishers started their career as antique restorers, and today they use that level of expertise to create a modern, usable piece of furniture. Many of our craftsmen still work on antique furniture as a hobby in their spare time, and we think that dedication shows through in every piece of furniture we make today.