Featured Custom Project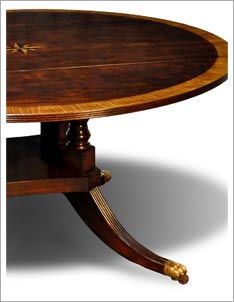 A Round Dining Table is one of the more versatile pieces of furniture in a house. It can serve as a decorative center table, or as an intimate breakfast table for several people. With a leaf or two installed, it is large enough to seat six to eight people.
Because our furniture is made by highly skilled craftsmen in our small English workshops, it is easy for us to customize our existing designs to come up with a table that meets the needs of the customer.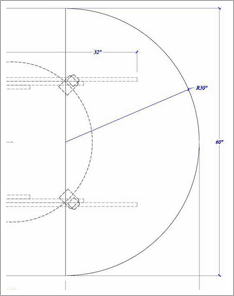 Custom Kensington Drop Leaf Table
We worked with Barbara Oral in the Baker Knapp & Tubbs Chicago showroom on just such a custom table project.
Barbara tells us about how she helped her client find the table they needed:
"My client's goal was to maximize space in the dining and living room area, hence the idea of a drop leaf table. Those, however, are difficult to find in today's furniture market, and since the clients selected an HL Holland Designs 9600 Coventry Commode for the dining room, the table needed to be elegant and formal, with rich inlays and detailing that complimented the other pieces in the room.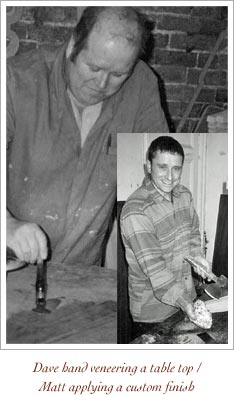 Our English Workshops
Working with our table makers in England, we selected beautiful mahogany and satinwood veneers and fashioned the traditional nautical star inlay for the center of the table top. We also engineered the folding drop leaves to fit the customer's requirements.
We then trucked the table to our finishing shop, where our polishers antiqued the bare wood and applied a hand finish consisting of several layers of French polish.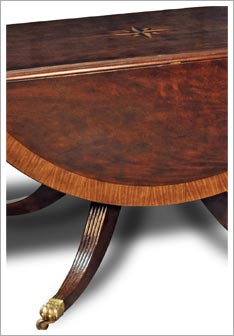 The Finished Product
Barbara continues:
"Adding drop leaves to an otherwise stationary top on the 7107 Kensington Center Table offered a great solution. HL Holland Designs preserved the nautical star inlay, satin wood banding and elegant swirl mahogany veneers."
"All wood finishes were coordinated to create a well designed, understated elegant look. The client was very pleased!"
At HL Holland Designs, we are pleased to offer our clients successful custom capabilities on most or our standard pieces, handmade in England to your specifications.